Onboarding is a term generally used by the human resource department of a company. This is a catch-all term to refer to that time from when a job candidate first accepts the job offer until they're hired, introduced, and successfully integrated into the organization.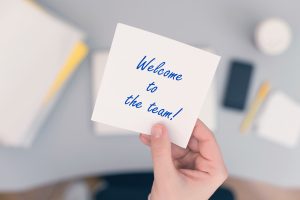 Being that the onboarding process constitutes the very first step an employee takes into your company, it follows that you have to make this strong. In so doing, every single new hire joins your company with a strong foundation as to work culture, expectations, and even their respective skills and capabilities in relation to the position in which they're hired.
To help you navigate through the challenges that come alongside onboarding new hires, here's the ultimate guide containing the best practices you can apply even with a simple employee onboarding process.
Reach Out To New Hires Before Start Date
In between that time when you first confirm that an employee is hired and their actual first day of work, many businesses still make the mistake of keeping that time frame dead. This means no communication is made again. After all, you've already informed the potential new hire that they're hired and they can start on this specific date.
Don't give your new hires that silent treatment. Instead, make it a point to reach out to those new hires regularly before their start date. You can use those conversations as a chance to get to know more about each other. Moreover, it's also during those conversations you can answer any concerns or questions the new hires will have.
Keeping those communication lines ensure that the employee's first day of work is smoother and less daunting. Overall, this can also create an easier transition. It's not like the employee is completely clueless the moment they walk into the office.
Get All The Paperwork Out Of The Way
A successful onboarding process also means getting all the paperwork out of the way. This doesn't necessarily mean physical documents per se. If you have a digital onboarding software or onboarding progress tracker used, especially evident for remote working arrangements, it simply means sending those documents for your employees to finish as well.
Don't wait until their first day of work to fill those up. Otherwise, you're wasting a few days that they could've been spending doing actual work already. This process shouldn't be rushed as even a single mistake in the bank account number or a missed signature can hold up a lot of things like their upcoming payroll.  It is important that you invest in the right payroll software in Singapore as per the requirement for your organization.
With that said, these are some of the key paperwork you should complete before day one at work:
Employment contract;

Police and security checks;

VISA and work requirements,

if applicable

;

Payroll forms like the employee's bank account.
Personalize The Experience
The onboarding process is generally a fixed set of checklists or structures made for all new hires in each department. But this doesn't mean that there isn't any opportunity for you to provide a personalized experience for every new hire.
Personalizing the onboarding experience can be as basic as including the new employees' name and details in all the documents you'll send, or in your welcome email. You can also ask the new hire to share a few fun facts they may like to share with or tell them to be comfortable talking about their new organization. Perhaps the new hire also has special needs that the rest of the team needs to be aware of, for better acceptance and understanding on their first day.
For instance, you've hired an admin staff who's physically disabled, walking on prosthetics or a wheelchair. Before their first day of work, it's an added step to ensure their workspace or desk has enough space for their needs. And, other employees should also be aware of this, beforehand.
Make Their First Day Memorable
Now here comes the first day! Don't just make it like any other day! Give your new hires a big and warm welcome by making their first day memorable. When those new hires leave your office and get home or meet their other friends, they'll always be asked 'how was your first day?' Surely you don't want them to mutter that they simply filled it by doing paperwork.
You can add more to that first day through simple gestures like:
Having their workspace set up with all they need like their own computer username and password;

Leaving a welcome package on their desk which holds a copy of the company manual or handbook, account ID, and simple and thoughtful gifts like notebooks, a snack voucher to the company canteen, or a tumbler;

Setting a paid

company lunch

with the new hire's co-employees in the same department.
Conclusion
When you gather all of the onboarding hacks above, now you better understand how onboarding is like the beginning of an employee's journey into the new workplace they'll be a part of. In essence, it's like welcoming a new member of the family and equipping them with all the resources needed to get through the adjustment and eventually, full integration into the team. When employees are the lifeblood of a business's day-to-day operations, it necessarily follows that this should be a smooth and streamlined process.