Have "World of Warcraft" and "Angry Birds" finally lost their luster? If you're looking for the next greatest thing in gaming, here are five must-try games to satisfy your cravings. From mundane time-killing to heart-stopping action, game developers have us where they want us – enthralled in the virtual world of wonder.
1. The Infinite Black
This free massive multiplayer online game (MMO), by Whalesong Games, invites you to explore the galaxy, assemble resources, battle other ships, earn improvements to your battleship, and create alliances for greater success. It's a game of exploration and combat, offering 20 unique ships and a variety of weapons, armor, and engines to choose from. There are 6,000 achievements possible, each with rewards and prizes. Still in the beta version, users rated it 9.988.
2. Paper Toss

This free game is simple yet addictive. Ever sat in your dorm room or office and tossed wadded up pieces of paper in the trash for fun? Did you see how far you could move the trash can away and still make the shot? Have you set up a fan to make the game more challenging? This game mimics all these scenarios so you can get your paper tossing kicks without shredding trees. This game works on 3G, 4G, Wi-Fi, and home internet service.
3. Tank Hero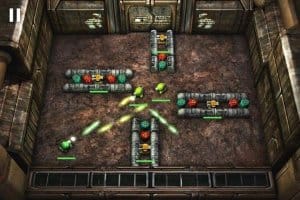 Fully 3-D, Tank Hero is a free combat game that allows you to fight enemy tanks to come out on top. There are three different environments to play in, with 120 levels of play. In this fast-paced action game, you can choose from five types of weapons and fight five different types of enemy tanks. Weapons include cannons, howitzers, heat seeking missiles, and more.
4. Pocket Legends
Billed as the world's largest MMO, this game allows you to enter the fantasy world of Alterra, which as been overtaken by enemies. You must help the Elf Queen save her kingdom using one of three classes of characters. There is an unlimited number of skill combinations to achieve, and you can chat with other players from around the world while you team up in this rich role-playing game. Aside from the action, it takes lots of strategy to overcome obstacles in this game. Pocket Legends is also free.
5. Order & Chaos Online
Order & Chaos is the only paid game on this list, priced at $6.99, but there is a free trial available on the Gamelot website. Enter the world of magic, take on enemies, and form alliances in this MMORPG (massive multiplayer online role-playing game).
Perform heroic feats and create unique characters with the advanced avatar creation features. The game includes five fantasy races, the elves and humans, which fight for order, and the orcs and undead, who fight for chaos. The latest version adds a new race, the Mandels, which are neutral. Order & Chaos is perfect for former WoW players looking for something new to play. It works in real-time and is fully 3-D.
These games are also available for Android phones, PCs, iPhones, and iPads.