The work that user experience (UX) designers do is crucial. Brands need UX designers to improve their users' interactions with their websites, services, and systems. The advantage that UX designers have is that they can empathize with users, so they can determine their needs and concerns better than any other project leader or stakeholder. The UX design process has quite a few elements. Check out this list of six stages of the UX design process.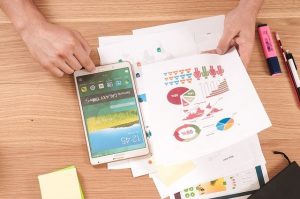 1. Research
UX designers cannot jump into a project without first conducting a fair amount of research. Such research includes looking at user demographics, identifying user goals, pinpointing user challenges, highlighting vital metrics, and formulating hypotheses. Some designers will, for their UX research plan, check out what their client's competitors are doing and look into the latest UX trends. Many will closely examine their client's guidelines and requirements.
2. Understand
Designers have to understand the users they aim to cater to so that they can create ideal experiences for them. They can accomplish this by utilizing the information they collected during the research process to build user personas, launch user scenarios, and develop user map experiences. Some will also conduct user testing so that they can truly step into the shoes of the target user.
3. Create
The creation process is not too complex. Designers will employ mood boards, wireframes, mock-ups, and style guides to gather ideas and draw sketches. They will make any needed alterations to the sketches they make. The goal of this stage is for designers to have a good sense of the main components of the experience they are trying to create.
4. Test
Designers need to test out their prototypes; doing so helps them collect data that will aid them in creating more refined user experiences. During this stage, they will utilize usability tests and analyze the resulting metrical data. They will also track and monitor usage. The information they get during the testing stage will inform their next iteration.
5. Develop
Once they have gained a solid sense of the design elements they need for a specific project, UX designers will build a formal experience. At this point, they will have all the required visuals and will have developed strategies that force them to stick to the provided guidelines. During the development stage, designers will ensure that functionality is present in all aspects of the experience they build.
6. Evaluate
After launching a formal UX experience, designers will monitor usage and review relevant metrics so that they can gain a better sense of how to improve their design the next time they work on the project. Evaluation is key because it aids designers in seeing things from the user's perspective. This assists them in finding weak points or flaws in their designs that are hard to detect from a creator's perspective.
UX designers have to put in a great deal of time and energy to create high-quality experiences. The work they do is crucial and highly sought after in this day and age.