It's great news if the company you've been working on so hard is expanding to a national level. You're probably very busy opening more stores and getting attention for your brand by creating national marketing campaigns. You suddenly need to manage a large company. Implementing a local marketing strategy is probably not on your high priority list. You have just upgraded your local business to a national brand; why should you return to the local level? 
This isn't a strange thought. Many think that national or international brands don't need a localized marketing strategy because they have a household name they can rely on. However, the opposite is true. Having an (inter)nationally known brand shouldn't mean local doesn't matter. In fact, when going national, local marketing becomes even more critical than it was before. How can that be? Why can't brands just rely on their household name? Let's explain this based on some frequently asked questions.
Is Local Marketing Not Only For Small, Local Businesses? 
The answer to this question is no. Many think local marketing means marketing for local mom-and-pop stores. This isn't true. Local marketing can be executed by all businesses and is especially relevant for companies with more than one location and operate in multiple regions or countries. This misunderstanding often happens because people don't know what local marketing is. Thus, first things first, let's explain what local marketing means exactly.
Local marketing refers to the marketing practice that is done to reach customers in specific areas or regions. It can include any marketing activity for any business or industry, as long as it is dedicated to local customers. It means engaging with potential or existing customers by diving into their needs and wishes and knowing their community. Nowadays, local marketing is the secret to an effective marketing strategy. Even large multinationals owe their success to local marketing.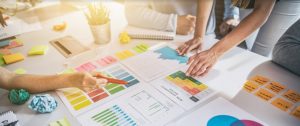 Why Should My National Brand Care About Local Marketing?
Because customers are local! Especially for national brands with local stores, these are the places where your customers can connect with your brand. Customers want to know what's going on in their neighborhood, with little to no interest in shops from other parts of the country. Imagine this; when you're searching for a good coffee spot, you probably search for 'coffee near me', expecting Google to come up with a map of cafes near your current location. This should involve all coffee spots, including national brands. 
Besides, customers generally don't review brands based on their experience in all stores, since they aren't able to visit each of your branches. Customers review your brand based on the experience they've had in one of your branches. If a customer leaves a bad review because, for example, they've experienced bad customer service, this will scare off potential customers of this local store. 
Therefore, brands can't just rely on their household name. Even if your brand is one of the biggest in the industry, your customers are still local and like to engage with brands that understand their (local) needs and wishes. 
Here you can find 5 more reasons why national brands need to adapt their national in-store marketing to local markets.
Sounds Great, But How Do I Make Sure My National Brand's Marketing Is Locally Relevant?
Of course, this depends on the industry and the kind of brand we're talking about. However, local marketing tactics can generally be divided into three categories: 
Product
Imagine having a clothing brand with multiple locations spread over the US. Your bathing suit promotion will probably do good in sunny Miami, but people in rainy Portland are more likely to be interested in raincoats. Adapting the product range to the local market is the first step when implementing a regional marketing strategy. Making your product range locally relevant also means taking into account local events or trends.

Online
Like mentioned before, customers demand local search results. According to Google, 46% of all searches have local intent. Besides optimizing search engines, social media has become a great tool and platform to engage with local audiences. Think about having local social media profiles for each of your brand's locations. 
Offline
Don't underestimate the power of local communities. Being locally relevant means being part of a community, which is also possible for national brands. Think about sponsoring local events of sports clubs and being present in local newspapers, of course, with a locally adapted message. 
Wrapping Up
Thus, when your brand is growing on a national level, keep in mind that your brand's success once started by opening a small, local business. So, stay dedicated and true to your original business, and your national brand will become even more successful.