Increasing your emergency fund may be high on your to do list but when you don't seem to have the extra funds to beef it up it can seem like an impossible task. Building up your savings fund may be difficult at times, but there a ton of ways you can start saving money and free up some extra cash. Use these 3 clever ways to free up some extra cash and save more money.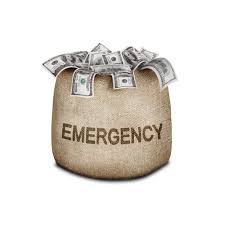 Tax Return
Tax season is an exciting time of year for most. If your one of the lucky ones to get a tax return you've probably already made plans on how your gonna spend all the extra money you just come into. Most consumers don't think past the excitement of being able to go splurge on things they don't really need that they are not thinking about saving any of that money. Instead of splurging your tax return this tax season make plans to invest your tax return in opportunities to improve your financial situation.
This your chance to pay down debt and save for a rainy day. Think about what your financial goals are and plan to accomplish those goals with your refund.
Challenging Yourself
When it comes to saving money we can get in our own way. Our mindset can hold us back from saving money. But you can trick your mind to do what you want it to do. Challenge yourself to start saving money or to save even more then what you are already saving. You can challenge yourself to save and extra $10 each pay period or to save as much as you can in the next 30 days.
You can use the 52 Week Money Saving Challenge as a guide to help you save money. This challenge is super easy to follow and you can do the challenge several different ways. You can start this challenge at anytime and at the end of one year you would have saved $1378.
If you are doing the cash envelope method then any extra cash that you have leftover you can put into your saving. Or you can put the amount of money you saved at the grocery store or any other store that you can use your loyalty card at into your savings fund. So basically what you would do is what ever the recipe said you saved but that amount into your savings fund. If you do this every time you shop your savings fund would build up really fast.
Stop Throwing Away Money
Weather you know it or not you are throwing money away everyday. You may think that you've got your finances under control but the truth of the matter is that there are things you could be doing that is costing you money. Take a few minutes this week and evaluate the things you are spending your money on and see if those things that are really worth the money you are spending. Look at things like your memberships, cable, or how often you eat out. One way to lower the cost of eating out is with coupons, like a Subway coupon code .
Watching where and how you spend your money takes little effort and can help you fight off those bad spending habits. Put thought into how you spend and save your money. You've worked hard to make the money you have. Use these clever ways to free up some extra cash and enjoy having healthy finances that you can be proud of.