What's the first thing that comes to your mind when you think about customer support? If you're like most people, you're already imagining a chaotic call center that's being flooded with calls from disgruntled customers who can't figure out how to make a purchase or use a product.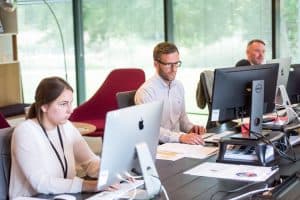 Well, those days of customer support are long gone. In 2021, it's no longer enough to provide consumers with a helpline number that they can call to inquire about your products and services. Instead, you need to use the right communication tools and technology to handhold them at every stage of the buyer's journey.
The Changing Face of Customer Support
Are you wondering why you need to modernize your customer support strategy? To begin with, more than 66% of B2B buyers and 52% of B2C buyers abandon a purchase after a disappointing customer service interaction. High-quality customer support plays a key role in acquiring and retaining customers, as well as ensuring customer success.
Also, it's worth mentioning here that nearly 41% of B2B buyers would prefer self-service functionality while making a purchase. It means they want to be able to evaluate different product/service options, get a price quote, schedule a demo, and make a purchase without reaching out to customer support reps.
This is understandable considering that modern consumers are more tech-savvy and have a plethora of communication tools at their disposal. Also, a major segment of these consumers includes millennial buyers who prefer to conduct their own research before making a purchase.
While troubleshooting customer problems has always been a priority for businesses, the need to provide omnichannel support has been escalated by the ongoing pandemic. As consumers' purchasing habits move further online, you'll need to implement new techniques to provide support.
Here are a few powerful tactics you can use to up your customer support game in 2021:
Leverage WebRTC
What is WebRTC and why is it an indispensable part of new-age customer support solutions? This is what you must be wondering right now. Simply put, WebRTC is a revolutionary technology that facilitates audio and video communication via web browsers and mobile applications.
In other words, you integrate WebRTC into your website or mobile app to let consumers connect with you on a video/audio. They won't have to exit your website/app to make the call. Also, it eliminates the need for customers to download and install additional software. The best part is that they can reach out to you using any device of their choice.
The simplest way of utilizing WebRTC for customer support is to include a "click-to-call" button on your website. Alternatively, you can use WebRTC-based tools, such as Google Meet and Amazon Chime, to meet your customers face-to-face (albeit virtually).
Keep an Eye on Social Media
Social media platforms, particularly Facebook and Twitter, have unleashed a new era of customer service. These platforms aren't just great for building brand awareness and reputation. When judiciously used, they can help you resolve customers' queries and address their complaints. 
To begin with, monitor your brand name mentions on various social media platforms. Identify posts or threads where a customer has shared their experience of using your product/service. Reach out to them via comments or DM and ask for their genuine feedback.
If they aren't satisfied or have too many queries, connect them with a rep from the relevant department. Also, monitor your DMs for any queries/complaints from potential and existing customers. Make it a point to respond to messages within an hour of receiving them. You can even set up automated replies to handle queries while you aren't online.
Likewise, you should watch the comments section of your social media posts. Make sure you publicly address any customer grievances and own up to your mistakes. Apart from enhancing customer support, it'll go a long way to improve brand trust and credibility.
Prioritize Self-Service
As mentioned earlier, modern buyers want more agency in their purchase decisions. Your role is to empower them with relevant and useful content before, during, and after they make a purchase. 
Start by creating detailed blog posts catering to each stage of the buyer's journey. Use social media polls and online surveys for a better idea of your target consumers' queries and pain points at every stage.
Also, make sure you distribute this content across various channels, including social media, email, and search engines. The idea is to let your audience find the content they're looking for precisely when they need it.
Additionally, it's a good idea to create an extensive knowledge base on your website. Identify and answer the most common questions your customers ask throughout their purchase cycle. You can also include an FAQs page and a discussion forum on your website to further empower buyers.
What techniques are you using to provide better customer support? Share your suggestions in the comments section below.