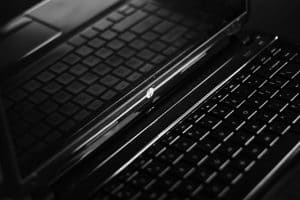 Is your HP laptop displaying a black screen with just caps lock blinking 2 times when you switch it on? This is an issue reported by many users around HP forums. The display going black can have several reasons like memory failure, BIOS corruption, or hardware failure. This is why HP has integrated these caps lock blinking features to help users be aware of the issue. Let's find out more about the issue and how to resolve it. 
What is the 'HP Laptop Caps lock blinking 2 times' error?
According to HP's support forum, the 2 times blinking of caps lock refers to BIOS corruption failure. So if you're having an issue of the display going black with 2 times caps lock blinking then it's about BIOS corruption. This can be resolved easily. Follow the briefing down below.
How to solve the 'HP Laptop caps lock blinking 2 times' error?
Step 1: Remove the CMOS battery and reset it.
First, unplug your system and shut it down.

Then open the casing on the backside of your laptop and look for the CMOS battery. It's a small coin-sized cell.

Remove the CMOS battery and put it back after a few minutes.

Now put the casing back and connect your system to the power outlet.

Then press the button and start your system.

It will work fine now. 
Note- This will only solve the issue temporarily. If you do not update your BIOS after this, then the issue may creep back in. Hence the next step is important.
Step 2: Update your BIOS 
Once your system has restarted, open the web browser, and go to the HP Support section.

Find your device and the relevant Windows to download the drivers and setup. 

Then download the BIOS setup for your system.

Now install the update and restart the system. 

It should work fine now and no such issues will occur again.