When it comes to joining plastic parts, there are several ways that you can join them. You might use screws or rivets, you may use adhesive or you might choose to use ultrasonic welding. This is when you use waves to fuse the plastic parts together, rather than heat or adhesive.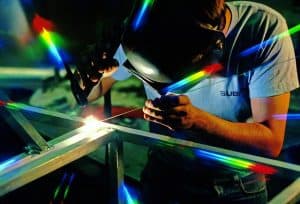 Understanding Ultrasonic Welding
Ultrasonic welding uses a high-frequency vibration. This heats and bonds the parts that are under pressure. These vibrations are outside of a human's range of hearing. In the past, it was used in the toy industry, but it can now be used for electronics, in the medical industry and even in the automotive industry. When it comes to ultrasonic welding machines, Branson ultrasonic converters are a critical element.
Learning the Benefits of Ultrasonic Welding
There are a variety of benefits to using ultrasonic welding. When you use ultrasonic welding, the bond is strong and precise. If you have heat-sensitive products, you don't have to worry about melting or any other volatile reaction. There is no thermal distortion involved.
One thing to remember is that with ultrasonic welding, it is important that there is no complex geometry. Ultrasonic welding may be used to create earphones, computer circuits and more.
Ultrasonic welding can save you in production costs. Since you do not need to pay for glue, fasteners or any other adhesives, you save on costs. Welding is low-energy, so you don't have to worry about high energy bills. In addition, it's fast. This is one of the fastest welding methods. It does not require any drying or curing and the whole process is automated.
Joining two dissimilar materials can be difficult. It is not recommended that you use glue or another adhesive because these may fall apart. Welding processes create a more permanent bond for your materials.