What is NFT
NFT stands for Non-Fungible Token. It refers to a piece of data stored on a blockchain to certify a digital asset is unique and cannot be interchanged. NFT can represent items such as videos, audio, photos, and other digital files. However, access to the original copy is not restricted to anyone. Although anyone can access the files, the blockchain provides proof of ownership to the owner. It is different from copyright. 
The NFT world has received a lot of attention lately. They are supported on blockchains such as Tezos and Etherium. NonFungible.com shows that the value of NFT transactions was US$230 million in the first half of 2020, which increased by nearly 300%. Active users reached 78,881, increasing 5.7%.
Gate.io NFT Magic Box, the first centralized NFT trading platform in the world, will soon be Online. Here, anyone can create their own NFT or participate in an NFT auction. Furthermore, to celebrate the launch of the NFT Magic Box, users can claim an NFT Token from June 23rd 10:00 to June 30th 10:00, for FREE!
Rule of Gate.io NFT Activity
Activity 1: Participate in NFT auction bids and win 15,000 points
During the activity, the users participate in the auction of designated NFTs on Gate.io for the first time, and the successful bid will receive $10 points.
Activity 2: TOP 3 in the bidding list share $5,000 in Rewards
All users who participate in the auction will have the opportunity to share it. The top 1 can share 3000 USDT. The top 2 can share 1500 USDT and the top 3 share 500 USDT.
Participate and win $20,000 prize in NFT auction
How do NFTs work?
As the world starts to appreciate tech, there is a high demand for properties of physical items such as proof of ownership, uniqueness, and scarcity. NFTs hold special properties such as.
 

Each token has an owner, and its information is easily verifiable

 

Each token produced as a unique identifier

 

NFTs are not interchangeable directly with other tokens 1:1. One token is not the same as another token

 

They are based on Ethereum and are traded in Ethereum NFT markets.
This means that if you own an NFT:
 

No one can change it

 

You can prove that you own it

 

You can hold it forever comfortably knowing that it is secured on a blockchain

 

Or you can sell it; sometimes, the original creator will receive royalties
If you create an NFT:
 

You can sell it on the NFT market or peer to peer

 

You determine its scarcity

 

You can easily prove ownership

 

You can receive royalties every time its resold
 NFT-related currencies
There are hundreds of NFT related currencies available. This is because of the demand that has seen a spike this year. It shows that people finally appreciate the role of NFTs in the digital economy. Let's look at some of the top NFT-related currencies
THETA- This is a blockchain built for video streaming. It was launched in 2019, and it allows users to share bandwidth and other computing resources.

Tezos (XTZ)- It is a smart contract blockchain that is different from Ethereum. Tezos offers more advanced infrastructure.

Chiliz (CHZ)- This is a sports and entertainment currency. Tezos operates the first fans' rewards and engagement platform.

Enjin Coin (ENJ)- Enjin Coin powers an ecosystem of blockchain based gaming products

Decentraland (MANA)- It is a VR-based platform that allows users to create, monetize and experience content and applications. The Ethereum blockchain powers it.

Bakery Token (BAKE) -Bakery token is part of a decentralized automated market-making protocol known as BakerySwap Ecosystem. It rewards the liquidity providers with Bake Tokens.
Gate.io supports the transaction of 500+ cryptocurrencies. All the above NFT-related currencies are all available on gate.io market.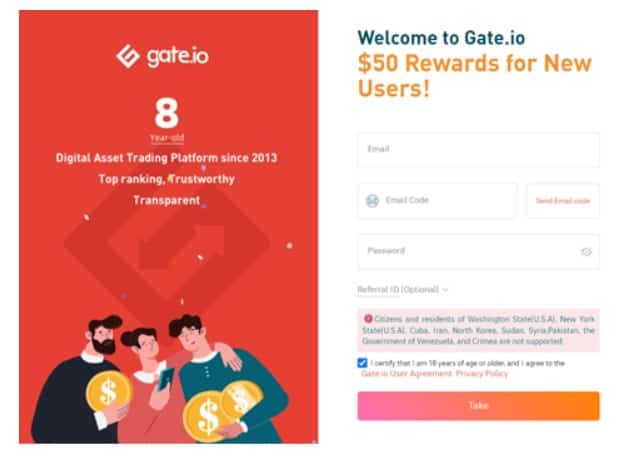 NFT Magic Box of Gate.io
Established in 2013, Gate.io is the global leading blockchain digital asset trading platform. In 2020, Gate.io became the first mainstream blockchain trading platform that promised to provide 100% margin certification. Gate.io provides investment services for more than 1,000 trading pairs in Coin Market, with an average daily trading volume of US$1.2 billion.
In the future, Gate.io will launch the world's first NFT centralized platform known as the NFT Magic Box. It allows anyone to create their NFTs easily as well as participate in the auction. The NFT magic box platform lowers the trading threshold, which is kind designed to make trading easy for everyone.
The Magic Box also offers high-performance blockchain technology at a low cost. The platform takes care of everything as you focus on creating your work and showcase it to more than 4 Million users. Every year the platform receives more than 1 million new users. You can display, sell and promote the popularization of NFT by using the Gate.io Magic Box.